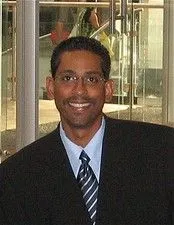 Dr. Ebrahim Ghuran graduated from The University Of The West Indies with a Doctor Of Dental Surgery (DDS) degree in 1997 . Prior to studying at Dental School, he attended St. Mary's College. Dr.Ghuran has been practicing dentistry for the past 23 years.
He has a Bachelor of Laws (LL.b) (Hons) Degree from The University Of London, Legal Practice Certificate (LPC) from the University of Wolverhampton, Masters of Business Administration (MBA) from the Australian Institute Of Business and Maters in Law (LL.M) from the University of Wolverhampton.
Dr. Ghuran is also a practicing Attorney-at-Law for the past 11 years, and is the only Dentist and Attorney in the Island, and has an executive certificate in conflict management from the University of Windsor. His legal practice covers Civil, Family and Criminal law. However, he concentrates on Dental and Medical negligence.

Dr.Ghuran has been a past member of the Trinidad and Tobago Dental Council , and has been a past examiner for the Trinidad and Tobago Dental Council.
Dr. Ghuran is also a Diplomat of the International Congress Of Oral Implantologists, a Diplomat of the The American Acadamy of Implant dentistry and a Fellow of the International College Of Dentists and a Fellow of The Buteyko Clinic.

Dr. Ghuran has been providing comprehensive orthodontic treatment to kids and adults since 2005 and has attained a wealth of knowledge in treating all orthodontic issues over the past 15 years in orthodontics. His knowledge extends into all aspects of dentistry including Myofunctional treatment, craniofacial development, sleep breathing disorders / sleep dentistry, Facial esthetics including Botox and dermal fillers.

Since he began practicing dentistry, Dr.Ghuran has kept up to date on many continuing educational classes, attending several continuation education courses a year, ensuring that his patients receive the most comprehensive and advanced dental care possible.